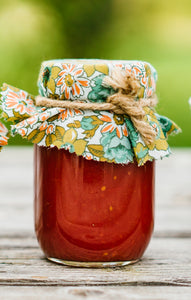 A beautiful and vibrant homemade tomato sauce. Made with farm-fresh locally-grown tomatoes that have a delicious natural sweetness. This sauce is red like a ruby and so incredibly versatile. Some of our favourite uses of this sauce are for:
Meatball sauce
Lasagna
Spaghetti sauce
Pizza
Vegetable stew
No sugar, no salt, and no preservatives added. Only the freshest ingredients that are made in small batches with love and care. Made & sealed September 2018. Sealed and unopened jars will last for at least 2 year. Please refrigerate after opening. 
We sell our tomato sauce in 500ml (16 oz.) and 1 litre (32 oz.) jars.