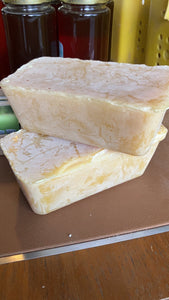 We are now providing amazing Ontario fresh bees wax! It is such a flexible and beautifully scented ingredient that can be used in:

Hand or face creams (incredible moisturizing capabilities)

Lip balm
Moustache and beard creams
Candles
Cheese waxing
Conditioning wooden utencils
Seasoning cast iron cookware
Polishing furniture
Waterproofing jackets, shoes, or backpacks naturally
and more!
It has a ton of great qualities such as being anti-inflammatory, anti-bacterial, shelf-stable, and all natural with no chemicals. Once you touch a block of it, you'll immediately see why it's such a sought-after ingredient and tool.
Each block is 1LB.